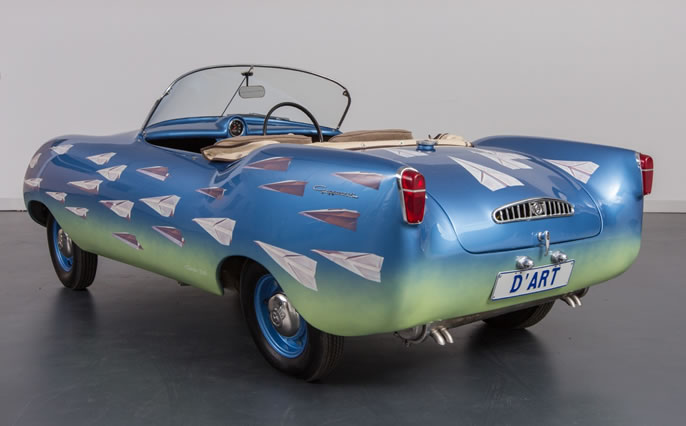 Swan Hill Regional Art Gallery

Opening; Sunday July 22 at 12.00 noon.
Exhibition Dates; Sunday July 22 2018 to Sunday August 26 2018.
Opening Hours:
Tues to Fri 10.00 am to 5.00 pm,
Sat & Sun 10.00 am to 4.00 pm.
Horseshoe Bend, Swan Hill, Victoria, 3585.
Phone: (03) 5036 2430
artgal@swanhill.vic.gov.au
Admission; Gold-coin.
Robert has transformed an iconic 1960's Australian sports car,
the Goggomobil Dart, into an Object D'art.
The car is the canvas for a delightful cascade of 62 beautifully hand-painted
paper-darts; finished to show-car perfection.
Accompanying the car, this exhibition also includes detailed sketches, a test panel
and a documentary video about the project.
(OBJET D'ART is on an extended tour of regional galleries throughout Australia;
Dates and locations will be posted here as they arise.)