The Goggomobil D'art Project
D'ART

The Feature-Length Documentary that screened in cinemas in Melbourne and Sydney in 2019,
and was officially selected for the 2020 Melbourne Documentary Film Festival,
is now available in Vimeo (See link below)
.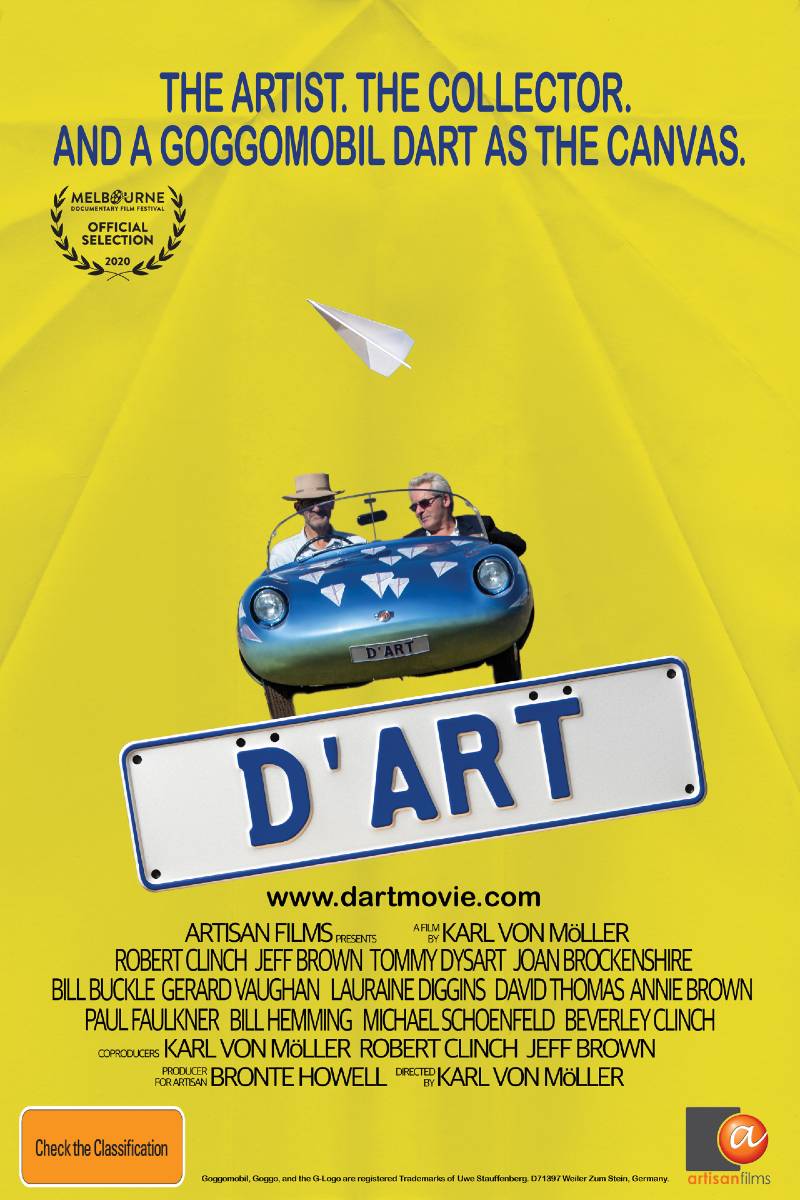 In the movie, D'ART, Robert paints an 'art-car', using an iconic Australian sports-car,
the Goggomobil Dart, as the canvas for his signature paper-darts.
Along with the dramas of any creative project, this light-hearted documentary is sure to put a smile upon your face!

D'ART captures the creative process, reveals the breadth of Robert's remarkable oeuvre,
investigates collecting in its many forms, and uncovers the car's extraordinary history,
while introducing a diverse and often hilarious cast of experts and protagonists.
Watch the trailer here - https://vimeo.com/422649177
To view the movie, D'ART, on Vimeo, click here!
Movie Review (from USA based 'Documentary Drive');
http://www.documentarydrive.com/review-dart-karl-von-moller/
More information about the movie can be found on the movie website;
www.dartmovie.com

-->
The Goggomobil D'art
Was Unveiled At Lauraine Diggins Fine Art on March 25th 2017
Following the unveiling, an exhibition, 'ODJET D'ART', including the
car, a selection of preliminary artworks, and a gallery video, toured
Australian Regional Galleries from 2017 to 2019.


Hosting Venues were: Gosford Regional Gallery, NSW; Cowra Regional Art
Gallery, NSW; Benalla Art Gallery, VIC; Swan Hill Regional Gallery, VIC;
Artspace Mackay, QLD; Broken Hill Regional Art Gallery, NSW; Hervey Bay
Regional Gallery, QLD; and Port Pirie Regional Gallery, SA.

Lauraine Diggins Fine Art
5 Malakoff Street, North Caulfield, (Melbourne) Victoria 3161 Australia.
Website: www.diggins.com.au
Opening Hours
10am - 6pm Tuesday to Friday and 1pm - 5pm Saturday
*Detailed working drawings and paintings from the exhibition are still available
from the gallery (opening hours above).


(For unveiling and Floor-Talk video see 'D'art Videos' below)


D'art Videos
Watch the creative process in 40-seconds! - https://vimeo.com/351752884
View exhibition opening and unveiling below
View Artists floor-talk below


The Town Hall Gallery
Rear Entry, Lower Level,
Hawthorn Town Hall
358 Burwood Road, Hawthorn 3122.
Telephone: (03) 9278 4626
May 21st to June 14th 2008

Group exhibition including a number of Roberts Works